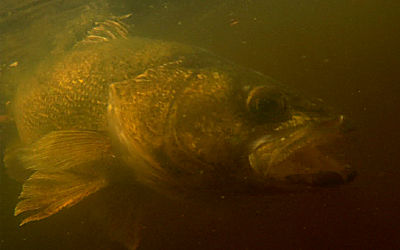 Walleye.
Local name: Pickerel
Family lake has world class walleye fishing. These delicious fish school around the many structures found in the lake and are easy to catch throughout the season.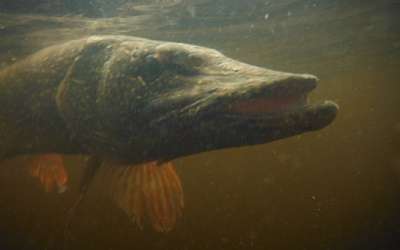 Northern Pike.
Local name: Jackfish
One of the most thrilling freshwater catches are the monster Northern Pike that call Family Lake home. Hook into one of the 40 plus inch trophy's and brace yourself.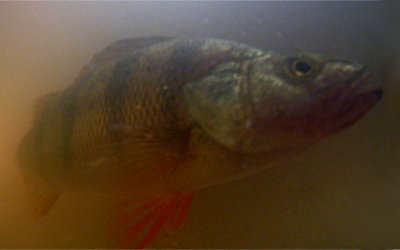 Other species.
Family Lake is home to many other species of fish. You may also catch Perch, Sauger, Burbot, Lake Whitefish, Mooneye, Rock Bass, and Sucker.
Fishing Gear Suggestions
The following is a list of suggested tackle only. Many of our guests have very succesful fishing trips year after year with nothing more then a handful of Jigs and a selection of Spoons.
Walleye Tackle
Ultra-light or light weight rod and spinning outfit.
New 4-8 lb. test line.
A few dozen Jig heads in assorted colors, ¼ to ½ ounce.
Chartreuse, White, Pink and Orange are the most popular.
Good supply of "Power Bait" tails or plastic tails and bodies, 3-5 inches and assorted colors.
Crank baits in the 3-8 inch sizes such as Rapalas, Rattle Traps.
Walleye spinners and spinner weights or bottom bouncers.
Northern Pike Tackle
Medium to heavy rod and spinning or bait casting reel.
New 10-20 lb. test line.
Steel Leaders 30 lb, 9-12 inch.
A selection of spoons, 3" / 1oz or larger Regular spoon for early season and Weedless spoon for mid season.
Large Spinner Baits, Buzz Baits and Bucktails.
Crank baits in the 3-8 inch sizes such as Rapalas, Rattle Traps.
Classic Jerkbait like the 10" Suick are also very popular.
Live minnows are not allowed in our region. We sell tubs of frozen, salted minnows at camp.The Province of Manitoba has been "Barbless" since the 1980's, you will be required to pinch the barb on any lure before attaching it to your fishing line.
Fishing for Walleye
You'll hear Walleye also referred to as Pickerel, Yellow Pickerel or Dore. We'd rather call them "lunch".
Time of day can play an important part in solving where the fish are. Some spots turn on at different times of the day. You can fish over a huge school of inactive walleyes and never get a hit, then come back two hours later and find that they're going nuts. Always double check a good-looking area. If you keep checking these locations you will find active walleyes on one of them.
Many of our fishermen think of rocks, sand, drop-offs, and deep water when walleye fishing. But walleye chasers are missing some good fishing if they aren't poking around in emerging weeds, especially in the spring months. Walleyes will make extensive use of weed clumps if they're available, and often the fish that are in the weeds are looking for a meal, making them susceptible to any type of offering.
When you start reeling in those walleyes, remember that they have VERY sharp teeth. Don't try to land your walleye by the mouth or gills --- you'll only do that once!
Fishing for Northern Pike
The local name for Pike is Jackfish, They are the largest apex predator fish in our waters.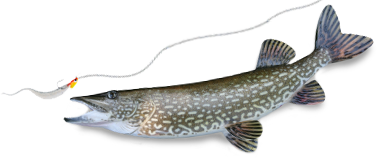 You can find these fish in near shallow marshy bays in weed beds, at about 4-12 feet deep. The Northern is also a spring spawner. When water temperatures reach 40-52 degrees the northerns enter heavily vegetated, shallow bays. Sometimes theses bays are less than 1 foot deep! The eggs are scattered in the bay and attach to the vegetation.
Most pike are caught in less than 15 feet of water. Present him with any of your favorite crank or surface baits - just remember to use a leader. When the northern pike hovers about 3 feet from your bait, be patient. When a northern is feeding, he will often turn his prey around, kill it, and then will swallow it head first. Northerns are predators that will eat anything that fits in their mouths including perch, walleye, other northerns, mice, frogs, ducklings ---- or that stringer of fish you have hanging over the side of your boat
Vary your retrieve. Speed up-slow down. Twitch it-hop it. Change the action and you'll soon be saying 'fish on!
For more info Contact us