Geared to your needs
Each of our four lakefront cabins sleep either 8 or 12 people serving a maximum of 33 guests. Both our Housekeeping Package and our American Plan Package are tailored for your needs. We provide daily maid service to keep your cabin clean and comfortable throughout your stay. Inside each cabin you'll find 3 piece washrooms with hot and cold running water, showers and flush toilets. We pride ourselves on our well maintained fishing camp, our very clean cabins, and dependable, excellent service.
For your comfort and security
Our trusty eco friendly battery bank backed up by multiple diesel generators allow you to feel right at home, supplying power to your cabin 24 hours a day. Our lodge offers free use of Wi-Fi and telephone. An electric refrigerator and gas range are available in each cabin for those guests who prefer to provide and cook their own meals. Bed linens are provided along with bath and kitchen towels. A supply of wood for the wood stove is yours for chilly spring and fall evenings.
Private 3 piece Bathrooms
hot & cold running water
Modern kitchens
full sized fridge and stove
24 hour electricity
free Wi-Fi and phone
Fresh coffee
delivered every morning
Cabin one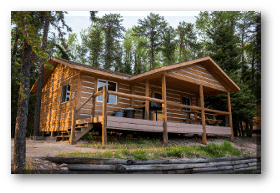 Cabin 1 is a two bedroom cabin
sleeps up to eight people
It is the closest of the four cabins
to our dining room and boat dock
Cabin two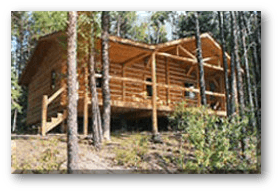 Cabin 2 is a two bedroom cabin
sleeps up to eight people
The log accents on this cabin
give it true North Country charm
Cabin three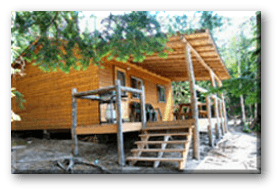 Cabin 3's full covered deck provides
a shaded rest spot to relax
after your long day of fishing
This three bedroom cabin sleeps 12
Cabin Four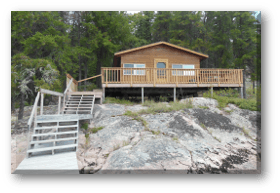 Cabin 4 is the most secluded
and private on the island
It has a spacious deck and private dock
This cabin will sleep up to eight people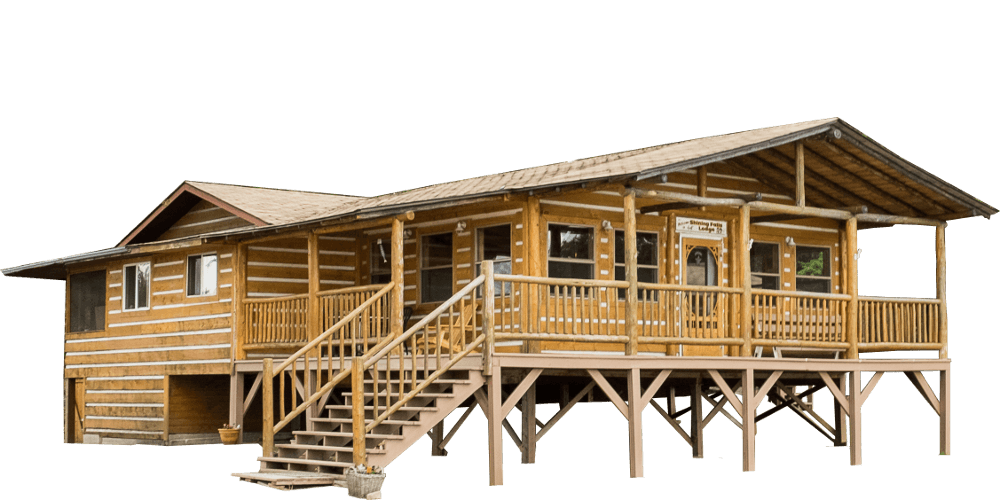 Our Main Lodge
includes: fully licensed commercial kitchen
The main lodge dining room is where our American Plan guests gather for breakfast and dinner. It is also a great place to visit with fellow camp residents or to hold a meeting for your business group. Our lodge store is in the Main Lodge where you'll find a selection of clothing, lures and other essentials you may have left behind.
View Recipes